Debt Collection Letter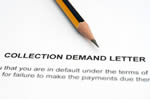 Debt Collection Letter is free for your use. The Debt Collection Letter should be used to get a customer to pay their overdue balance before you send them on to collections. The Debt Collection Letter is an attempt to motivate clients or patients to pay to avoid debt collection action. Just cut, paste, fill in your information and send.
Debt Collection Letter
[Your Name]
[Street Address]
[City, ST ZIP Code]

[Recipient Name]
[Title]
[Company Name]
[Street Address]
[City, ST ZIP Code]
Dear [Recipient Name]:
As you are aware, payment is past due on your account in the amount of 12,971.33. Copies of the outstanding invoices are re-enclosed for your reference.
We have tried to be patient and sensitive to your financial situation; however due to the delinquency and amount of this debt, I am sure you can understand that a sense of urgency is involved in resolving this debt.
Please call us at 310 555-1212 within the next week to pay in full or discuss a reasonable payment plan that will work for you and your company. If we do not hear from by, , we will consider turning this matter over to our collection agency in accordance with our company collections policy.
Sincerely,
[Your Name]
[Title]
Enclosure
Debt Collection Letter